Did someone just whisper "Zoom Zoom"?… no, this isn't an advertisement for Mazda. I'm talking about Yukon Learn's "Learn From Home" campaign introducing the beginning of our e-learning platform on the popular video conferencing software, Zoom.
In the year 2020, technology is a big deal; it's become an integral part of our society. From toddlers to seniors, technological devices are at our fingertips even when you least expect it. It's become more than just convenience for us: it's a part of day-to-day life, it's literacy.
The year 2020 also brought us COVID-19, a pandemic that has brought the world to a screeching halt and forced millions of people to self-isolate at home. Not surprisingly, a large number of us have turned to our trusted tech devices to find solutions. Whether it's having a movie marathon on your favourite streaming service, chatting with friends and family over social media, or attending video conference meetings for work, we rely heavily on our technical literacy skills to cope with these challenging times. So, what happens when you find yourself lacking the technical literacy skills to do things that you want to do while self-isolating?
There is no need to feel badly if you find yourself asking an eight-year-old how to set up your computer. Many of us feel short on our tech-literacy skills (it's actually a lot more common than you might think). Plus, technology is always changing! In as little as six months, the latest trends in technology can be completely different. That means, much like traditional literacy skills such as reading, writing and math, many adults find themselves in a constant struggle to keep up, just to know enough to get by. This is why Yukon Learn has made several introductory computer courses. They are a key part of our programs and services, and focus on the literacy needs of Yukoners.
Introducing Zoom! Zoom is a free application that provides remote video conferencing services in an easy-to-use package, and is an excellent resource for Yukon Learn to offer virtual classrooms. Don't just take our word for it, check out these smiling faces from a recent Introduction to Zoom e-classroom from our Seniors' Computer Tutor Program. The Seniors' Computer Tutor Program is taught by Yukon Learn Technologies Instructor Ted Ackerman, and Yukon seniors are now learning how to use the software.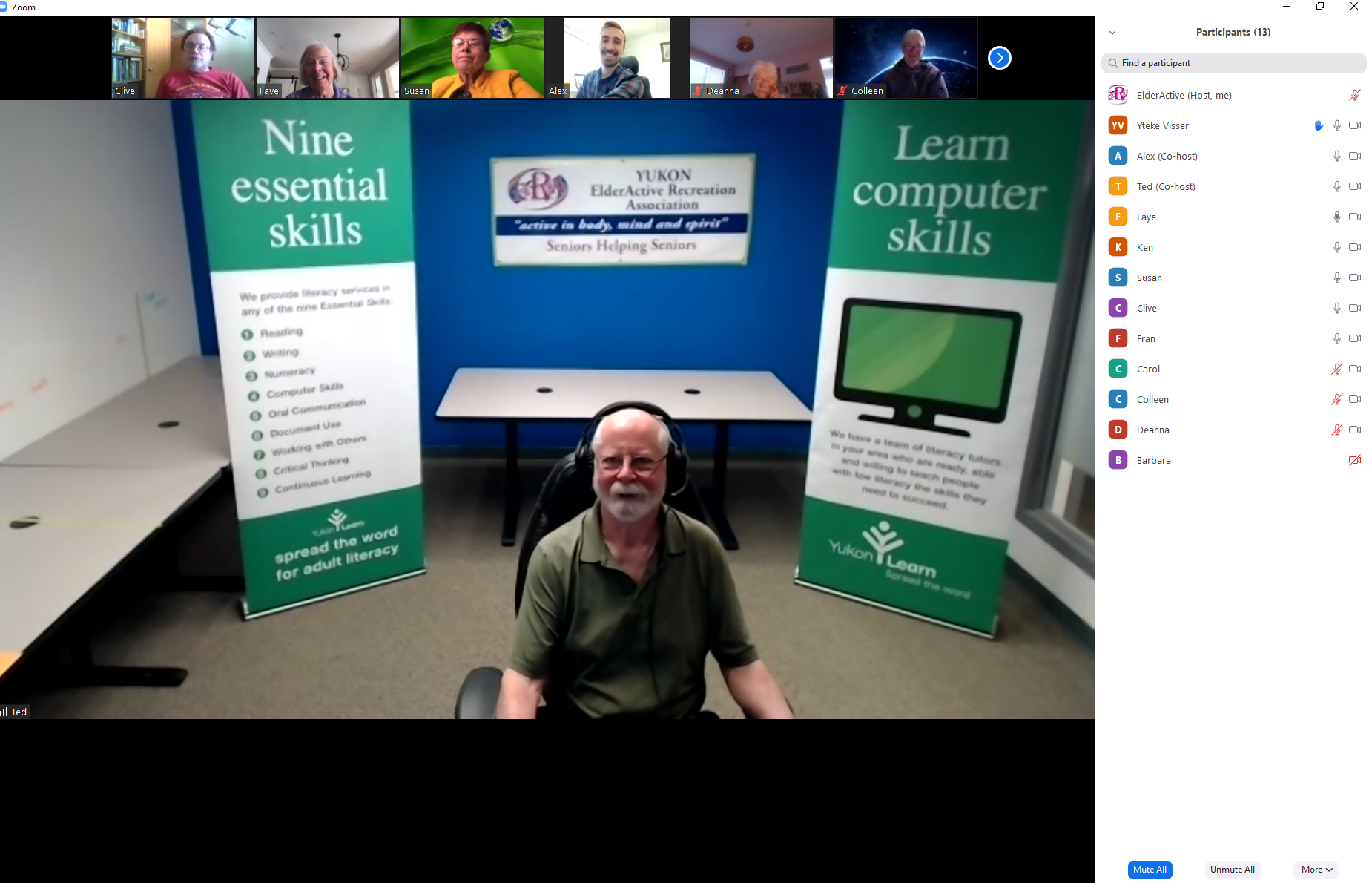 Meeting biweekly every Tuesday and Thursday, Ted hosts lessons geared towards seniors exploring tech-topics like smartphones, tech-trends, internet, email, online security, social media and more. In partnership with the ElderActive Recreation Association, Yukon Learn provides free tutoring to all its members and recently made the successful switch over to a Zoom e-learning classroom.
"Kudos to Ted and Alex for allowing us to participate in Zoom conferencing.  It is amazing, and we are learning so much... even more than the physical classroom.  Especially good to have in these unusual times of THE VIRUS." -Faye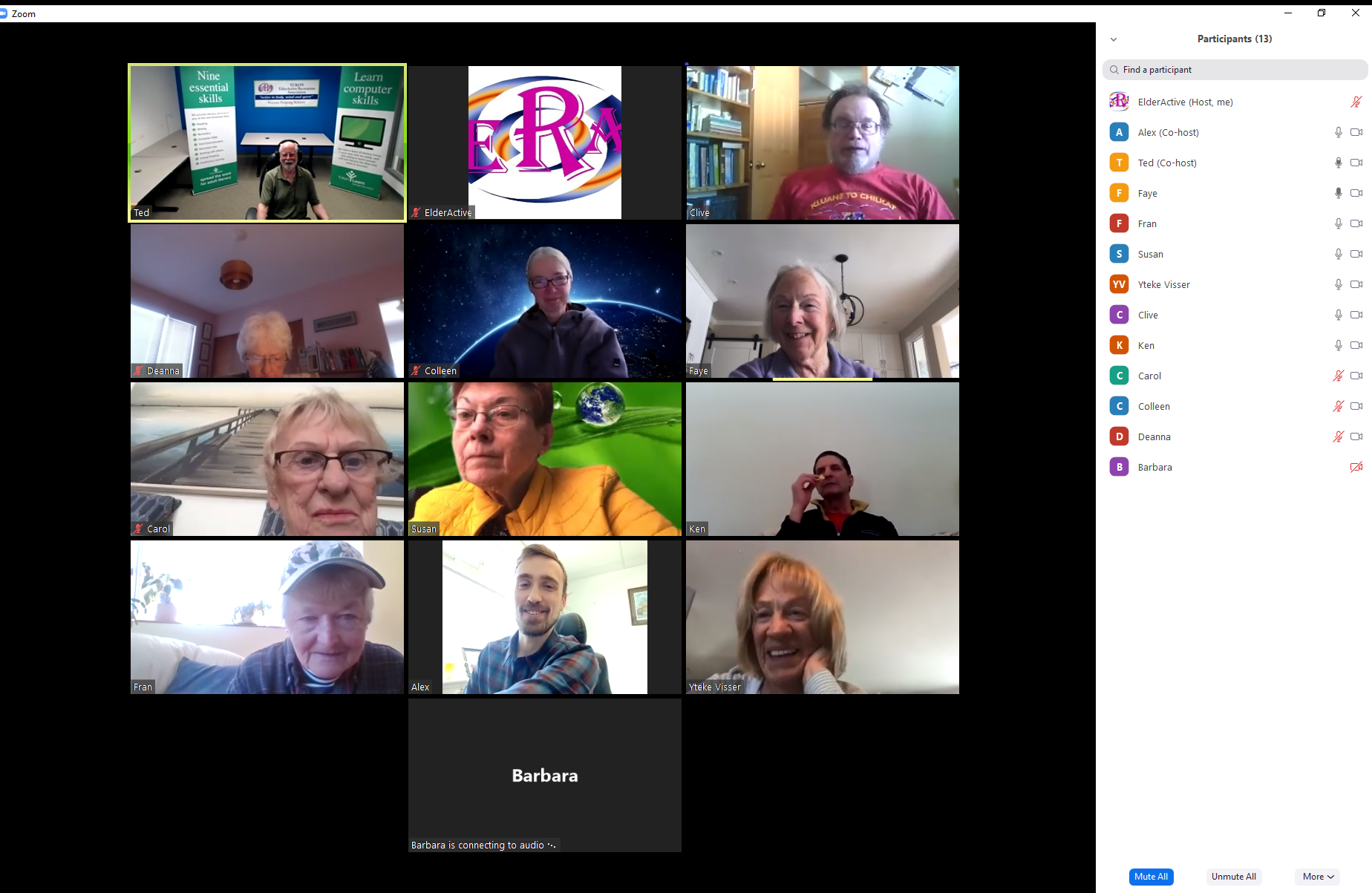 These seniors have taught us a valuable lesson in lifelong learning: it's never too late to learn something new or learn how to do something better. While you are stuck at home and wondering what to do with your time, why not sign up for one of our free introduction to computer courses and keep your mind busy. It's much easier than you might think, and all of our courses and programs are FREE with a membership!
Register here or give us a call at 867-668-6280.
Yukon Learn is working hard to convert all our courses into an e-learning classroom format. To see a list of our FREE courses, click here.
Register early, as space is limited. The future awaits!